ISLAND TIME RADIO SHOW ON WBWC-THE STING
Welcome to the Island Time Web Site!
THE ISLAND TIME RADIO SHOW is heard LIVE Monday nights from 10PM to 1AM, eastern time on WBWC 88.3 FM (Baldwin Wallace College) in the Cleveland, Ohio area.
Hear the webcast worldwide @ http://www.wbwc.com
Encores also heard on:
WNY THE SHORE RADIO @ http://www.wnyshoreradio.com/ Saturdays- 9 PM, eastern
BEACHFRONT RADIO @ http://www.beachfrontradio.com
Wednesdays- 8 PM, eastern
ISLANDRADIO.NET @ http://www.islandradio.net
Tuesdays- 8 PM, eastern
Hear shows "on demand" @ http://www.islandradio.net
Listen or download anytime !
The show is hosted by Dennis King (DK the DJ). Sidekick is "Amo" James Bennett. We like to think our show will take you on a 3 hour vacation,even if its just in our minds!
The show is a great mix of "Trop rock" music by independent and established artists. But you may be asking, "hey DK, what the heck is trop rock"?? It may not be in Websters dictionary just yet, but let us try to define it for you.
TROP-ROCK (TROP-ROK)- A mixture of rock-n-roll and country music blended with an island style theme and lyrics. See also Buffettesque, and Caribilly.
In the Island Time "musical gumbo" you'll also hear reggae, soca, calypso, beach music, surf instrumentals, tropical jazz, celtic rock and steel drum sounds!
Local Ohio / Put in Bay acts are often featured. Artists like Pat Dailey, Alex Bevan, Bob Gatewood, Chuck Cornwell, Junkanoo Brothers, Mike "Mad Dog" Adams, West Side Steve, KD Moore, Jonah Koslen, Koz Kozminski, and Ray Fogg. Many of these acts are live studio guests from time to time.
Hear the ISLAND TIME RADIO SHOW - Monday night at 10:03 PM eastern Time on WBWC 88.3 FM in Cleveland,Ohio and at www.WBWC.com on the web!! Encores on RADIO JIMMY DREAMZ, TROPICAST ONLINE RADIO & WLRA.
WBWC REQUEST LINE : 440-826-7846
E-MAIL YOUR REQUESTS:
LIVE during the show @ request@wbwc.com
OTHER WEB SITES:
FACEBOOK : http://www.facebook.com/home.php#/profile.php?id=1044536488&ref=profile
http://www.facebook.com/pages/ISLAND-TIME-RADIO-SHOW/97719894158?ref=ts
http://www.facebook.com/groups/168747809820983/
YOU TUBE CLIPS FROM our 12/17/07 show: http://youtube.com/watch?v=VJuzbT_i6HE
http://youtube.com/watch?v=Rktqejb2kyE
YOU TUBE CLIP FROM Halfway to Phlocking 1/28/12:
Island Time Radio/ Phlocking Carnival Cruise 2012 !!
October 7-13, sailing from Miami, Fl. with stops in Key West, Grand Cayman & Montego Bay mon !! More info and register @ http://www.phlocking.com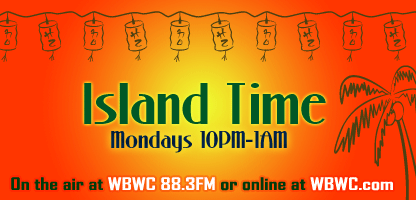 This Week's Show
UPCOMING LIVE GUESTS/ GIVEAWAYS ON
ISLAND TIME:
8/6- Seth Swirsky interview
8/13- Ricky Hana interview
8/20- Swim Skinny & Kevin Johnston in studio !!
8/27- Frankendread returns to the studio !!
9/2- Brent Burns interview
9/10- Dani Hoy in studio !!
Trop rock CD giveaways every week !!